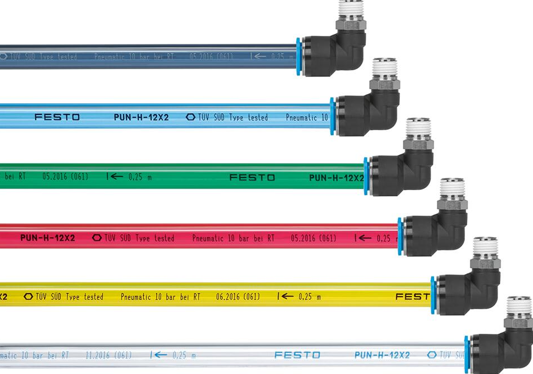 How To Choose A Correct Pneumatic Fitting
Choosing the correct Pneumatic Fitting Type for a particular application depends on several factors. These factors include:
Tubing type needed ( Inch or Metric, Thermoplastic or Metal, Size)

Air pressure or P.S.I. requirement

Thread type of fitting needed (pipe, British pipe, metric, SAE Straight Thread)

Vibration concerns

Fitting material needed(brass, stainless steel, thermoplastic, nickel plated brass)

Approvals needed (for example: Department of Transportation, Underwriters Laboratory, FDA)
Once these determinations have been made, there are a wide array of fitting types to choose from. What follows is a listing of the more popular styles available with a description of their uses.
COMPRESSION STYLE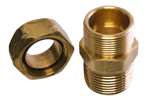 Compression – Characteristics: No flaring or soldering needed. Tube compatibility: Available in inch dimension only, Copper, Aluminum, Thermoplastic; Thread availability: Male pipe , Female pipe; Body material: Brass

Compress-Align – Characteristics: No flaring or soldering needed, preassembled fitting with captive sleeve. Tube compatibility: Available in inch dimension only, Copper, Aluminum, TFE, PEA, PFA, Thermoplastic; Thread availability: Male pipe, Female pipe; Body material: Brass
Metru-Lok – Characteristics: One piece, preassembled fitting with captive ferrule; Tube compatibility: Available in metric dimension only, Copper, Aluminum, Thermoplastic; Thread availability: Male pipe, Female pipe, British parallel pipe, British tapered pipe, SAE Straight Thread, Metric; Body material: Brass
Poly-Tite – Characteristics: A preassembled compact fitting. The exclusive acetal copolymer sleeve resists stress caused by compression; Tube compatibility: Available in inch dimension only, Thermoplastic and soft metal tubing; Thread availability: Male pipe, Female pipe; Body material: Brass or stainless steel
Hi-Duty Flareless Tube Fittings – Preassembled fitting with a captive sleeve for high pressure applications (1000 to 4300 P.S.I.); Tube compatibility: Available in inch dimension only, Copper, Brass, Seamless Steel, Thermoplastic; Thread availability: Male pipe, Female pipe; Body material: Brass
PUSH TO CONNECT STYLE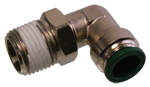 Prestolok Metal – Characteristics: One piece push to connect fitting for low pressure applications that allows for easy disassemble and reassemble. Come with a pre-applied thread sealant; Tube compatibility: Most Thermoplastic ( 85A Polyurethane excluded) in both inch and metric dimensions; Thread availability: Male pipe, Female pipe, British Parallel Pipe, British Tapered Pipe, Metric; Body material: Nickel Plated Brass

Prestolok Composite – Characteristics: One piece push to connect fitting with glass reinforced black nylon body; Tube compatibility: Nylon Semi-rigid, Polyurethane, Nylon, Fluorpolymer, available in both inch and metric dimensions; Thread availability: Male pipe, Female pipe, British Parallel Pipe, British Tapered Pipe, Metric; Body material: Silicone free glass reinforced nylon
PrestoWeld – Characteristics: Push to connect fittings that are weld splatter resistant and silicone free to meet the requirements of the robotic welding industry; Tube compatibility: Parker Microweld tubing; Thread availability: Male pipe, Female pipe, British Tapered Pipe; Body material: Nickel plated brass
BARBED FITTINGS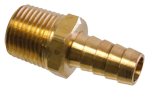 Dubl-Barb – Characteristics: Compact one piece, push on barbed fitting; Tube compatibility: Parker Polyethylene tubing; Thread compatibility: Male pipe, Female pipe, SAE Straight Thread; Body material: Brass

Hose Barb – Characteristics: Manufactured in both regular hose barb and beaded hose barb styles; Tube compatibility: Rubber Hose, GPH Hose, hose clamps required; Thread availability: Male pipe, Female pipe, SAE Straight Thread, Metric; Body material: Brass